Local Youth Environment Assembly – India
February 26

-

February 27

Free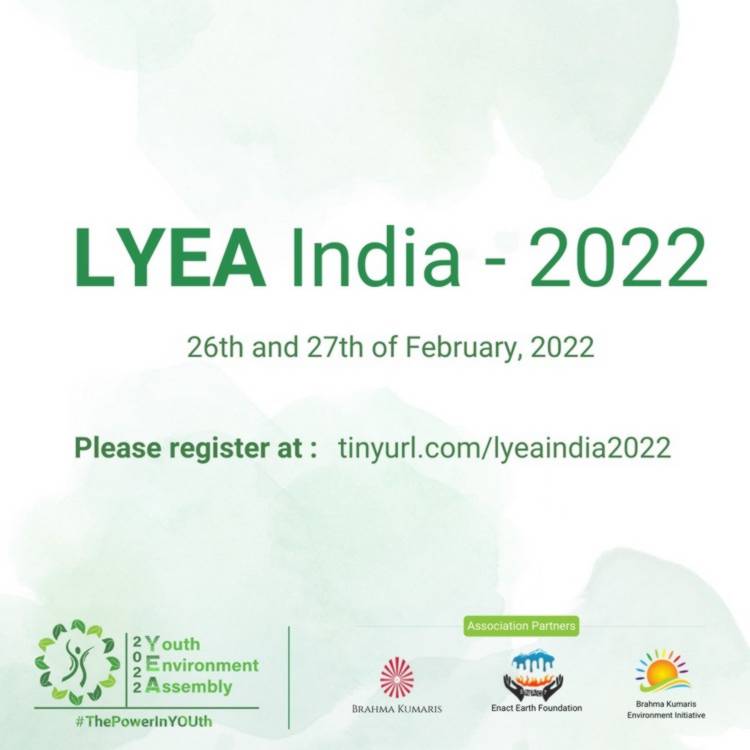 Date :- 26th Feb – 27th Feb
For :- Any person below the age of  35 is eligible to apply.
There is NO REGISTRATION FEE!
Certification Eligibility :- In order to become eligible to receive a certificate of participation in the event, the participant must have attended all the 4 sessions and provide feedback when requested.
If you have an queries, or wish to volunteer, or nominate someone as a speaker for their work in any one of the above themes, please send an email to 

[email protected]

.
---
About Event :-
Objective of LYEAs is to educate, build knowledge and understanding among the national and regional youth on environmental governance and conservation, sustainable development, and the United Nations system, especially the UNEP processes and UNEAs, as well as empowering young people to participate in these processes, by:
developing positions of youth on issues related to environmental governance and conservation that are relevant in the respective country or region. Those positions are meant to be fed into the Global YEA as to be then reflected as a part of GCYE inputs to the annual UNEAs and are a basis to spread perspectives and ideas of youth around the globe;

the LYEA should provide appropriate space and programming to enable participants' effective preparation and engagement at the UNEA and gain further knowledge about the UNEP;

This is what distinguishes a LYEA from other youth-led (environmental/climate) conferences and is intended to be the primary objective of an LYEA.