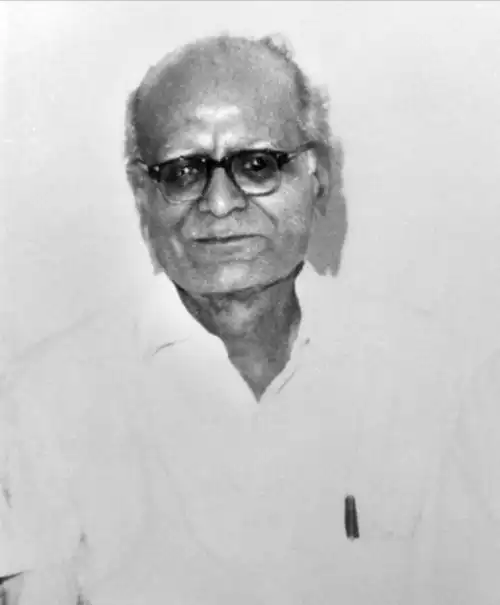 A

Humble

Godly Servant

and

Protective Administrator
Dada or Bhau (elder brother) VishwaKishor's childhood name was 'Bheru' dada. He was fondly known as "Bhau". Bhau Vishwa Kishore was the son of Brahma Baba's elder brother. Brahma Baba brought him up like his own child. Bhau had a very special place in his heart for Brahma Baba. From the very beginning, Bhau had love and trust in Brahma Baba.  He used to follow Brahma Baba's footsteps in his life.
Bhau used to help Baba in his jewellery business during the early days. Bhau was a right hand man in business, like a son or younger brother to Brahma Baba. Dadi Santri was Bhau's spouse.
Perpetual success as a blessing
Bhau Vishwa Kishore had utmost regard for Brahma Baba and used to follow Baba's wishes or directions without any second thoughts. When Brahma Baba sold his business and retired to follow Godly directions and started "Om Mandli " (spiritual gathering or satsang) to impart spiritual knowledge, Bhau alongwith his spouse Dadi Santri too followed Baba's footsteps. The couple became support pillars of the spiritual movement.  Bhau was responsible for buy and sell of property, buying clothes, making arrangements of car and bus etc. to carry out day to day activities of the organisation. Bhau had utmost faith in Baba, which Baba reciprocated. Bhau Vishwa Kishore had great love and regard for Mamma and all members of the organisation. Bhau was like Baba in many ways, he was free from all desires. Bhau VishwaKishor lived his life emulating Brahma Baba, had a great planning intellect which he used for spiritual service and followed each direction of God Shiva accurately till the end of his life. It was as if Bhau had received a blessing of being successful in whatever he did.
Intense effort maker
When the organisation was relocating from Sindh, Pakistan to Mount Abu, India, Baba had sent a group of experienced brothers and sisters to make the necessary arrangements for all. Bhau Vishwa Kishore was one of them. Bhau received the name "Vishwa Kishore " (Vishwa – world; Kishore – young Shri Narayan or Shri Krishna) from Shiv Baba because he was an intense effort maker. When Brahma Baba saw divine visions through Shiv Baba and Brahma Baba wound up his business to follow the divine visions; Bhau also wanted to follow Brahma Baba's footsteps.  He told Baba of his heartfelt wish, however Baba told him to wait for sometime and continue to do what he did.  Obediently Bhau obliged Baba's direction. Bhau remained happy in all the circumstances.  After some years, he received divine inspiration to surrender completely into Godly service which he immediately gladly obliged along with his family.
Humble Godly servant
Bhau Vishwa Kishore was very experienced. He was a profound thinker, a great planner, sacrificing, loyal and honest person.  He had unflinching faith in God's work. When he used to meet various people to carry out activities of the organisation, people used to ask him – what is your position in the organisation? Are you the secretary? Bhau used to humbly reply, no, I am a humble Godly servant. Even in letters, he used to sign as "Godly servant". In reality, Bhau Vishwa Kishore was one of the administrators.
Protective like Shri Hanuman
In 1957, Ramesh Bhai invited Mamma-Baba to visit Mumbai. Bhau Vishwa Kishore arrived a few days before them. Bhau called Ramesh Bhai and told him to get his car and meet him as Bhau wanted to visit some place for service. After driving for some miles, Bhau said let's go back to the centre as I have forgotten some papers; you come again tomorrow, we will go then.  This happened the next day and for 3-4 days. 
On the fifth day, Bhau said to Ramesh Bhai that you must have understood by now what I am doing. Bewildered Ramesh Bhai replied, I don't understand, I come because I follow your direction.  To which Bhau said, Ramesh I am testing your driving skills.  I wanted to make sure that Mamma Baba will be in safe hands when they sit in your car with you driving. When Mamma Baba arrived in Mumbai, Ramesh Bhai got to know them closely because of passing in Bhau VishwaKishor's driving test. 
Shri Hanuman used to always worry about the protection of Shri Ram and Sita. Similarly, Dada Vishwa Kishore used to care about Mamma Baba's health.  
When Mateshwari Jagdamba Saraswati (Mamma) was diagnosed with cancer and was being treated in Mumbai, Bhau himself had made all the arrangements of operation and other treatment.  When Mateshwari was being taken into operation theatre, Bhau was standing ahead holding the stretcher in his hand and asked Ramesh Bhai also to hold the other end to guide the stretcher towards operation theatre. 
Such was Bhau's love for the Mamma Baba and God's spiritual work that he was always active in any kind of service.  
A complete trustee
Pandav Bhawan was bought in Bhau VishwaKishor's loukik name. Bhau was of the opinion that it should be under the name of the organisation and not his personal name.  Bhau had arranged to make a transfer deed through top lawyers from Mumbai and Delhi. When the papers were ready and he took them to Brahma Baba, Baba did not accept those papers. 
Later when Dada VishwaKishor's prostate operation date was decided, Dada prepared the papers again, this time through Ramesh Bhai. Before the operation, Dada and Ramesh Bhai planned to travel to Mount Abu to meet Brahma Baba for his approval.  Dada asked Ramesh Bhai to also carry the legal paperwork that Ramesh Bhai had prepared. Dada said to him, we will transfer the ownership from me to the organisation, if Baba agrees. They were met with Bholi Dadi when they arrived at Abu road train station. She had a letter from Brahma Baba which instructed them to freshen up at the station and get the papers registered. Once the papers were registered, they went up to Pandav Bhawan. They met Baba later in the evening. Baba was pleased as Bhau got his last wish. In this manner, because of Bhau's paperwork, Ramesh Bhai received a blessing from Baba that he would carry out all the legal paper documentation for the organisation in the future.
When Bhau VishwaKishor and Ramesh Bhai were going to leave for Mumbai the next day, a unique thing happened. Usually Baba never liked to have his photographs taken, but that day Baba called Chandrahas bhai to have their photograph taken. In the photograph, Baba was standing in front of a car flanked by Bhau VishwaKishor and Ramesh Bhai on either side.  This photograph became a memorable one as it captured the last meeting between Brahma Baba and Bhau.   
Final journey
When Bhau VishwaKishor and Ramesh Bhai sat in the train, Ramesh Bhai had a nagging question in his mind.  He asked Bhau why Baba himself asked the photograph to be taken. Bhau unravelled the mystery, replying that it was his last meeting with Brahma Baba.  Bhau knew that he would not recover from the operation and five days after the operation, Bhau Vishwa Kishore left his mortal coil on 12th March, 1968.
Dadi Santri and Dadi Prakashmani carried out the last rites by Brahma Baba's instructions in Mumbai. 
Dada Vishwa Kishore was Baba's true heir. Bhau was most obedient, loyal, honest and Baba's right hand. He was self sacrificing and never had any desires for himself. Bhau was an embodiment of sacrifice and penance. Till date, Bhau Vishwa Kishore is an inspiration to the new generation of Brahmins who aspire to follow Brahma Baba's footsteps through his lifework.
The deeper the roots of a tree, the stronger and more durable it is. Similarly, how deep are the roots of renunciation and tapaya of the people who run any organization, that organization is equally powerful, long-lived and free of obstacles. Prajapita Brahma Kumaris Ishwariya Vishwa Vidyalaya is a unique organization in this sense. Each and every founding member of this organization (Adi Ratna), are such ascetics who, keeping themselves, their sacrifices a secret, tirelessly, selflessly under the guidance of the Almighty, did spiritual service for humanity.