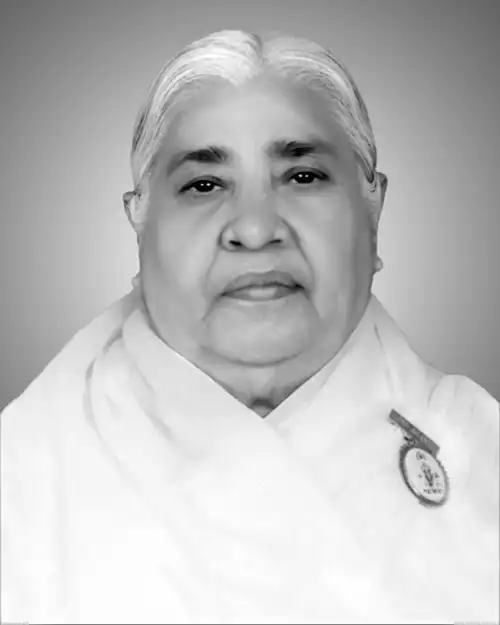 The Unwavering Faith: A Spiritual Journey
Dadi (elder sister) Gange was born in the year 1926 in Hyderabad, Sindh (now Pakistan) into a prosperous and religious family. Her childhood name was Ganga. Inspired by her parents' devotion to God, Dadi Gange was an avid devotee herself from a very early age. She used to read Bhagwat (Hindu holy scripture) whenever she found time while studying in school. She used to long to be a "Gopi' (one of the many female worshippers who had the most spontaneous and highest form of unconditional love for Lord Shri Krishna) when she used to read stories about Shri Krishna and Gopis.
Introduction to spiritual knowledge
When Dadi Gange was 12 years of age, Pitashri Brahma Baba (Dada Lekhraj) had started spiritual gatherings.  Dadi's neighbour suggested her family attend the spiritual gatherings or satsang.  When Dadi reached there, she heard the chants of "Om" and she immediately went into trance and saw an image of beautiful Shri Krishna.  Dadi became more interested in spiritual knowledge.  As she started going to Om Mandali gatherings, Dadi Gange used to feel more and more elated.  The pure and spiritual atmosphere during the gatherings made her soul experience deep silence and peace instantly.  The knowledge imparted in Om Mandali took her mind away from vices towards good deeds and path to a pure way of life.  She became one who received the nectar of spiritual knowledge and realised themselves as immortal souls and not a mortal body made up of five elements.
Trying times
After receiving permission from her parents, Dadi Gange joined the school which Baba opened for small children. They were taught English, Hindi and Mathematics. Being very intelligent, Dadi Gange was always one amongst the toppers of her class.
Dadi Gange started facing restrictions from her family because they did not want Dadi to continue following the spiritual path, they wanted her to get married and settle instead.  They imposed many restrictions on her like beating her up until she lost consciousness, tying her with iron chains, starving her and not allowing her out of the house and to Om Mandali gatherings for over six months.  Instead of breaking down, Dadi Gange was even more determined that the path she had chosen for herself is the one she wanted.  Love and faith in Supreme God kept her going.
Freedom at last
Finally, after almost a year of torment, she was freed and allowed to live the spiritual life she had always yearned for when she was rescued by her elder sister who had returned from abroad and invited Dadi to come and stay with her. Instead of being bitter towards her family, Dadi Gange always used to think of herself as a Gopi during the trying times and be immersed in remembrance of God Shiva through whom she received spiritual strength to carry on.  Dadi Gange felt protected and guided by the Supreme Power in every step of her way.  Dadi faced all the big challenges from an early age like trifles through her determination, will-power and unflinching faith in Supreme God.
Spiritual service journey
Baba used to see Dadi Gange as someone with a great potential. Baba used to say encouraging words to her like – one day you would be imparting spiritual knowledge to many saints, spiritual teachers and scholars.  Dadi Gange's associate in the spiritual social work was Dadi Manohar Indra whose loukik name was Hari.  Baba used to call them, "Har Gange, Har Gange ".  He used to bless them with encouraging words like "Both of you go on spiritual service and impart spiritual knowledge that will wash away the sins and vices of humankind and make everyone pure and virtuous.  Do service for the benefit and welfare of all.  It is your special role."
Dadi Gange started her spiritual service along with Dadi Manohar Indra in Delhi from 1952. She was in charge of Uttar Pradesh zone and carried out her responsibilities from Kanpur. Dadi Gange also headed the Religious Wing of the organisation.
Personality
Dadi Gange was fondly given the name of "Atam Indra" by Baba.  Baba also used to call her "Har Gange" (Hail Ganga).  Dadi Gange was an epitome of someone having utmost faith in God, her sacrifice and total surrender to God and his divine work was awe-inspiring. Dadi's face was always lit with a spiritual glow which used to attract others to the Supreme Soul like a moth to a flame. Dadi Gange was a skilful orator.
Having dedicated her entire life to spiritual service of the masses, Dadi Gange left her mortal coil on 08th October, 2004.
The deeper the roots of a tree, the stronger and more durable it is. Similarly, how deep are the roots of renunciation and tapaya of the people who run any organization, that organization is equally powerful, long-lived and free of obstacles. Prajapita Brahma Kumaris Ishwariya Vishwa Vidyalaya is a unique organization in this sense. Each and every founding member of this organization (Adi Ratna), are such ascetics who, keeping themselves, their sacrifices a secret, tirelessly, selflessly under the guidance of the Almighty, did spiritual service for humanity.