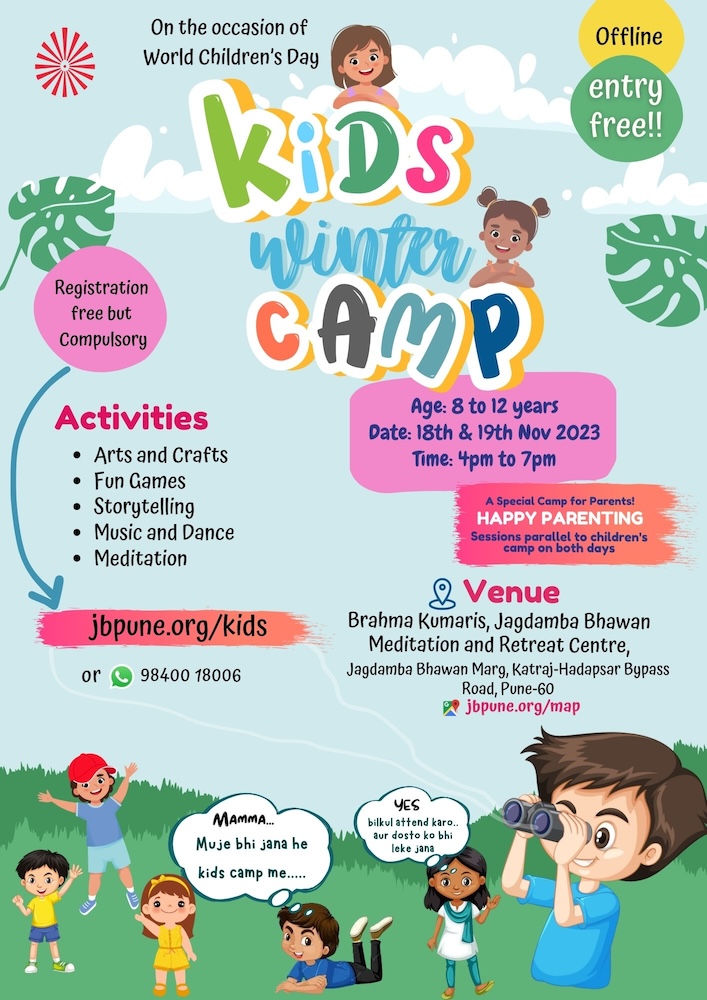 Kids Winter Camp- 18-19 November (8 to 12 yrs)
6
6 people viewed this event.
This Diwali vacation, do you find your children more glued to digital gadgets than their books and school projects/HW? Looking for a solution to this?
Do you feel you can be better parents? Bring up your kids with a better value system? Then read on…
20th Nov is World Children's Day. Join us in celebrating children's day and find an answer to your queries.
Parallel session for parents on both days🙎🏻‍♀️🙎🏻‍♂️
🗓️ Date: Saturday & Sunday 18th & 19th November 2023
⏳ Time: 4pm to 7pm (Both Days)
🗣️ Age Group 8 to 12 years kids
🚘 Venue: Jagdamba Bhawan, Near Bricks college, Lane beside Ambekar hotel, Hadapsar-Katraj bypass, Pisoli, Pune
📍 Google Map
https://jbpune.org/map
📝 Registration: https://jbpune.org/kids
(Registration free but compulsory for every child and parent)
⁉️ More Information:
📧[email protected]
🔘 Organiser:
Brahma Kumaris, Jagdamba Bhawan, Pune