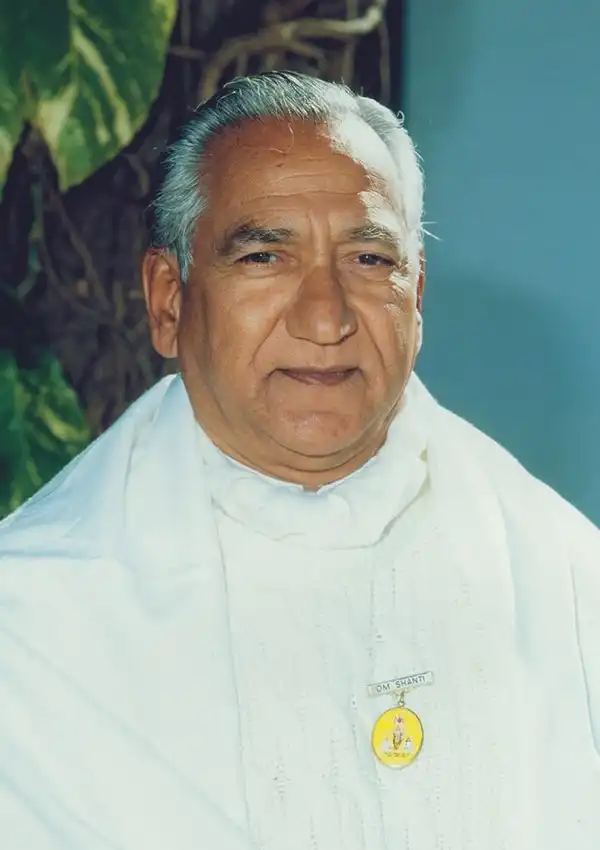 "Guided by

faith

,

a beacon of light

, he serves both

spiritual

and

earthly

needs with

boundless love

"
Brahma Kumar Nirwair, born on November 20, 1938, holds several significant roles within the spiritual and humanitarian community. He serves as the Secretary-General of the Prajapita Brahma Kumaris Ishwariya Vishwa Vidyalaya (PBKIVV) and is an esteemed member of the PBKIVV Management Committee. Additionally, he plays a vital role as the Managing Trustee of the Global Hospital & Research Centre located in Mt. Abu, exemplifying his commitment to promoting health and spirituality. His multifaceted responsibilities reflect his dedication to the spiritual, administrative, and humanitarian aspects of his work.
EARLY CHILDHOOD EXPERIENCES

:
B.K Nirwair was born into an Akali family in Hoshiarpur, Punjab. From the young age of 13, he had a deep interest in philosophy and religious books and was inspired by the teachings and lives of Swami Vivekanand, Swami Ram Tirtha, Gandhiji and Dr Radhakrishnan.
After completing his schooling in Mukerian High School, he began higher studies in DAV College, Mukerian, but the pull to serve the nation motivated him to enroll himself in the Indian Navy on 20 September 1954. He trained in Electronics & Electrical Engineering and while serving in the Navy for 9 years, he also participated in Goa Liberation Movement in 1961.
INITIATION WITH THE BRAHMA KUMARIS SPIRITUAL INSTITUTION

:
A seeker of truth, he became a student of the Prajapita Brahma Kumaris Ishwariya Vishwa Vidyalaya, PBKIVV (also known as Brahma Kumaris World Spiritual University, BKWSU) at the young age of 20 in February 1959. The experience of stepping into a Brahma Kumaris Centre for the first time was heart-warming and touched the core of his being. He felt he had finally found what he had been searching for since childhood: the true spiritual knowledge of Self, the Divine Being, and how to renew the spiritual relationship with the Divine.
Based on his close, personal association with the Founder of the Brahma Kumaris, Brahma Baba, and other senior members of the institution, he was inspired to spiritually serve the world, while serving in the Navy. While training under Brahma Baba over a period of a decade, he learned various means of carrying out Spiritual Service.
During the auspicious time of Shivratri 1960, Brahma Baba advised BK Nirwair to take a week's leave from the Navy to visit Somnath to especially meet with the former PM Of India, Shri Jawaharlal Nehruji who had been invited for the inauguration of the rebuilt famous Somnath Temple. BK Nirwair was able to personally meet with the PM, share greetings, gift and prasad from Brahma Baba, and spiritual literature too.
By the year 1963, he had a clear vision about the path he had to take and so dedicated his entire life to the task of the Brahma Kumaris, under the guidance of his mentor and guide, Prajapita Brahma himself.
Thereby began his role of representing the Institution as a valuable and effective instrument to spread the teachings of the Brahma Kumaris, both in India and abroad. He has been the brain behind many programmes, conferences, retreats, and seminars organised by the PBKIVV. His interactions with others have brought about tremendous change in the way people view themselves, which in turn has helped shape the institution to which he owes his allegiance.
HONOURED TO RECEIVE MANY HIGH-LEVEL DIGNITARIES AT THE HQ, in particular:
H.E. Giani Zail Singh, former President of India

Hon. Shri Narsimh Rao, former Prime Minister, India

Hon. Dr. Abdul Kalam, former President of India

Hon. Shri Narendra Modi, Prime Minister, India
MANAGEMENT OF ADMINISTRATION OFFICE AT THE HQ :
On 7 May 1970, he moved base from Mumbai to the Headquarters in Mount Abu to help manage the Administration office under the guidance of the then Head of Brahma Kumaris, Rajyogini Dadi Prakash Maniji. Dadi Prakashmaniji and BK Nirwair had served together since 1964 and so this loving relationship of trust carried on in Mt Abu, on the service field, for the next three decades.
He has been the source of inspiration behind the setting up of large World Renewal Spiritual Exhibitions, Spiritual Art Galleries, the making of documentary films and other projects on Spirituality in Art.
SERVICE AT THE HEADQUARTERS AND IN 5 CONTINENTS :
In 1982, he represented the University at the Second Special Session on Disarmament (SSOD) held at the United Nations HQ, where he officially met the U.N. Secretary General Javier Perez De Cuellar and other dignitaries. During the 2-month service tour of the Americas, Caribbean and Europe, he was also the Guest of former Vice-President of Guyana, Mr Steve Narain.
In attempts to share the spiritual wisdom with opinion leaders from various professional fields, he has shouldered the responsibility of acting as Secretary-General in International Conferences. The International Headquarters in Mount Abu have hosted a number of such conferences since 1983 on the themes of "Universal Peace", "Global Co-operation for a Better World", "Universal Harmony", "Spiritual Response to Changing Times", "Our Efforts for a Value-Based Society" etc. and continues to do so. Many distinguished dignitaries have inaugurated these conferences: former President Dr. Shankar Dayal Sharma, former Prime Minister Mr. Rajiv Gandhi, and been addressed by Mr. Robert Muller, other UN representatives and world leaders including the Dalai Lama, Lord David Ennals, Prime Minister Mr. Atal Bihari Vajpayee and others.

Apart from carrying out the role of Secretary-General, he has visited all five continents to propagate the teachings and principles of the Brahma Kumaris.
B.K. Nirwair has not only shown his competence in the realm of spirituality but also in humanitarianism and penmanship. One only needs to spend a few seconds with him to feel his unconditional love and respect for humanity.

DEEP REGARD AND LOVE FOR SERVING THE AILING SOCIETY :
His concern for fellow human beings cuts all barriers of colour, caste and creed, which is substantiated by his brain-child, the J Watumull Global Hospital & Research Centre, Mt. Abu, inaugurated in October 1991, of which he is Managing Trutee: http://www.ghrc-abu.com/ GHRC promotes positive health by incorporating spirituality in modern medical practice and creates a spiritual model of health care.
This was followed later by the creation of Trauma Centre, Eye Hospital, Nursing College (Abu Road). GHRC also manages the BSES MG Hospital at Andheri, Mumbai, which presents a new model of health care, and offers a judicious mix of spirituality and modern medicine.
CREATION OF LARGE RETREAT PLACES AND COMPLEXES OF THE BRAHMA KUMARIS FOR SPIRITUAL SERVICE OF HUMANITY :
He has been instrumental in over-seeing the setting-up of major complexes of the Brahma Kumaris since 1974 till date:

'

Gyan Sarovar – Academy for a Better World', Mount Abu, 1992 –

a

community development project consisting of a complete village complex on 25 acres of land, which includes:

Universal Harmony Hall, which seats 1600 individuals and provides simultaneous translation in more than 16 languages. It features both heating and cooling systems, and excellent acoustics.

A complete modular solar steam cooking system of 24, 7.5 square metre parabolic solar dishes capable of providing 2,000 meals per day.

International Centre for Higher Learning has 13 seminar rooms with seating capacities ranging from 75

–

150 individuals.

A residential complex which offers accommodation for 350-400 people.

'Shantivan' Complex, Talheti, Abu Road (Raj):

The main attraction is its massive, awe

–

inspiring Diamond Hall, inaugurated in December 1996, to commemorate the Diamond Jubilee of the institution. Majestic in art, architecture and equipment, it has the distinction of being able to seat 20,000 people! The complex includes a main conference hall, six smaller halls and residential buildings that can lodge 15,000 guests. It also has the largest parabolic solar device in India, which provides steam heat for cooking, and together with wind energy, provides electricity for computers, the telephone exchange and emergency

lighting systems

.

'Om Shanti Retreat Centre (ORC)', Goregaon (near New Delhi) –

a sprawling 28-acre complex built in peaceful surroundings, located 70 km away from the national capital New Delhi at Bhora Kalan, on Pataudi Road, in district Gurgaon. ORC consists of seven 200-seat seminar/training halls, an 800-seat mini-auditorium, a 2,300-seat auditorium, a meditation room and pyramid for the practice of Rajyoga meditation.

'Spiritual Art Gallery', Agra
Shanti Sarovar Retreat Centre', Hyderabad:

http://www.shantisarovar.org/

Manmohini Van Complex, Abu Road
and more, under the divine guidance and blessings of Dadi Prakashmani (former Administrative Head) and Dadi Janki, present Administrative Head of the Brahma Kumaris, respectively.
EXPERIENCED & EMOTIVE WRITER :
He is the Chief Editor of a Monthly English Spiritual Magazine, "The World Renewal". He has written several articles on spirituality in Hindi and English.
An eloquent orator, he has delivered several lectures on the practical techniques of adopting spirituality in daily life, a number of which have been compiled in the following books: "Spiritual Treasures" and "Insights of a Rajyogi".
AWARDS :
Human Rights Association, Delhi, Excellence Award
'Rising Personalities of India Award'

by International Penguin Publishing House, in 1999, for outstanding services, achievements and contribution.

'Morarji Desai Peace Education International Award for Year 2001'

under Gujarat Gaurav Awards, by the Governor of Gujarat, in 2001.

'

Bharat Gaurav Award

' awarded by the Sanskriti Yuva Sanstha that

felicitates people with extraordinary excellence in their fields and make India proud,

at the British Parliament in July 2016.
His aim is to serve society and guide people towards a life of dignity, peace and welfare: "I experience deep peace every day because I choose to live life under God's guidance and support."
The deeper the roots of a tree, the stronger and more durable it is. Similarly, how deep are the roots of renunciation and tapaya of the people who run any organization, that organization is equally powerful, long-lived and free of obstacles. Prajapita Brahma Kumaris Ishwariya Vishwa Vidyalaya is a unique organization in this sense. Each and every founding member of this organization (Adi Ratna), are such ascetics who, keeping themselves, their sacrifices a secret, tirelessly, selflessly under the guidance of the Almighty, did spiritual service for humanity.