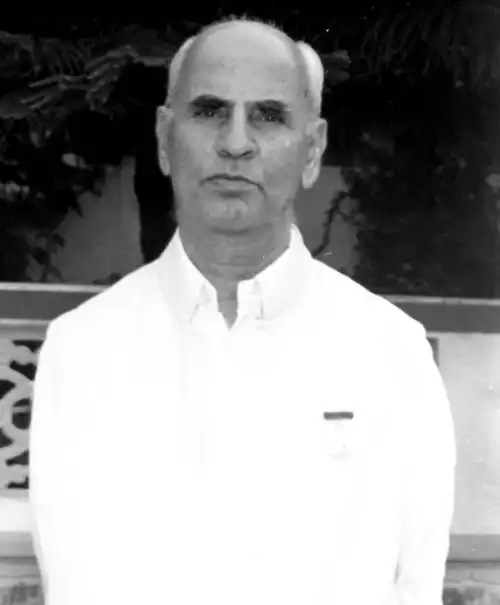 A

Committed Heart :

The

Unwavering

Devotion
His childhood name was 'Lakshman'; Brahma Baba's brother's son-in-law who, like Brahma Baba ran a jewelry business in Kolkata (then called Calcutta) in the adjoining lane where Baba ran his business. He too, like Baba dissolved his partnership, gave up his business, committed himself and his family to the Spiritual University in its initial days of inception. An Arts graduate, Dada Anand Kishore was one of the few committed who was well educated at that time and who had a good command over English. Dada helped draft letters to all the National and International governmental organizations as part of the Godly services. He was lovingly named 'Anand Kishore'.
Dada was lighthearted, cheerful and lively. He had firm unfaltering loyalty; did selfless, diligent services. He was ascetic, embraced and followed the Divine versions as they were spoken. He implemented every plan that Brahma Baba conceived for the organization. He contributed to the service of this Spiritual University with his heart and soul and set an example for all to follow.
Launch of International Services
In 1954, Dada was part of the 3 member committee that went to Japan for a religious conference. The visit was planned for 15 days; however, Indians there insisted that they stay for longer and impart the Godly knowledge. Eventually, they were there for 6 months and did Godly services thus sowing the seed of services internationally. They also visited Hong Kong, Malaysia and Singapore and started the Godly services there as well. Dada served in Pandav Bhawan, Mount Abu since 1968. He left his mortal coil in 1998. at 89 he believed he was still very young. He had tirelessly and proficiently contributed to the services for the Spiritual University since the time he committed himself for it.
The deeper the roots of a tree, the stronger and more durable it is. Similarly, how deep are the roots of renunciation and tapaya of the people who run any organization, that organization is equally powerful, long-lived and free of obstacles. Prajapita Brahma Kumaris Ishwariya Vishwa Vidyalaya is a unique organization in this sense. Each and every founding member of this organization (Adi Ratna), are such ascetics who, keeping themselves, their sacrifices a secret, tirelessly, selflessly under the guidance of the Almighty, did spiritual service for humanity.